High Resolution PR photos
Pushing the envelope of modern jazz drumming into a global
beat, The Rob Hart Trio takes a groove into uncharted territory
with finesse, flair and the right amount of flash!

-Brent Black @CriticalJazz


The level of musicianship is consistently high, the interplay
between the musicians spacious and dynamic, and the
compositional and arrangement aesthetics well beyond the pale
of most of what passes for modern fusion.
-Jeff Miers the Buffalo News

Right in the pocket throughout, this is must listening for people
that think hearing jazz shouldn't be a challenge. Check it out.
- Chris Spector midwest News
Hart works from a world-wise vantage point, liberally utilizing, tweaking,
and mixing the stylistic vocabularyand components endemic to various locales.
In this respect, he creates somethingof a broad-minded statement that varies
from track-to-trackbut doesn't feel disjointed;some artists look to create
a cohesive-and-consistent sound when they make a record,but Hart intentionally
produces something that's a bit more sprawling in nature.
-DAN BILAWSKY All About Jazz

Playing an exciting blend of organic traditional jazz, fusion,
funk, and Latin music, the San Francisco Bay Area native and
Berklee graduate Rob Hart expands his musical palette on his trio's new album.
-Modern Drummer Magazine

the music here a lot of ethnic color that exists in contrast with
the traditional jazz flavor of much of what's here.
-Peter Thelen

no one can deny this is one diverse jazz album and an enjoyable
one at that. I have heard some excellent jazz lately and you can
add this one to the list. Recommended.
3000 Realms of 10 Worlds demonstrates just what a master
craftsman he is as his skill behind the kit cannot be overlooked.
-Jon Neudorf- Tranquility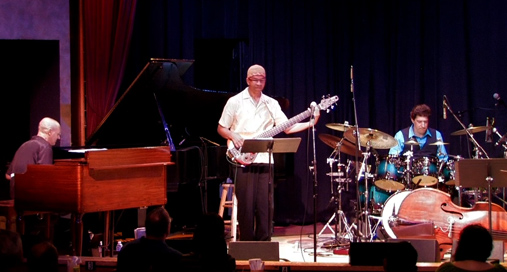 Rob Hart knows drumming and knows jazz. Like all of my favorite contemporary
players he's coming out of the jazz tradition but with a modern approach.
Check out Rob and his group -- the Rob Hart Trio.

-Steve Smith
(Journey/ Steps Ahead/ Vital Information)

The Rob Hart Trio has performed at the Stanford Hospital concert series since the summer of 2008.
Due to popular demand I have asked them to return for numerous concerts and am hopeful
they will continue to participate in this unique and popular series.


Their musicianship and repertoire is superb, with improvisational explorations that are truly inspiring.
As one Professor of Musicology from a prestigious east-coast university stated after hearing them at a recent Stanford concert stated,"The Rob Hart Trio is clearly the best music and performance I have seen in the
past 10 years."
-Greg Kaufman
Music Program Director
Stanford Hospital

Drummer-led sessions can be little more than self-indulgent invocations of the leader's chops,
but on "Rob Hart Trio Live," the San Francisco Bay Area drumming mainstay performs with utmost
respect for each arrangement. Yet while Hart's nuanced play is the disc's hallmark, his more muscular
talents take flight during free solos on "Impressions" and "Thorn Of A White Rose,"
which serve both as showcases for Hart's impressive technique as well as demonstrations of his
melodic sensibilities at the kit.
-Andy Doerschuk, Editor, DRUM! Magazine